A FLOATING YOGA EXPERIENCE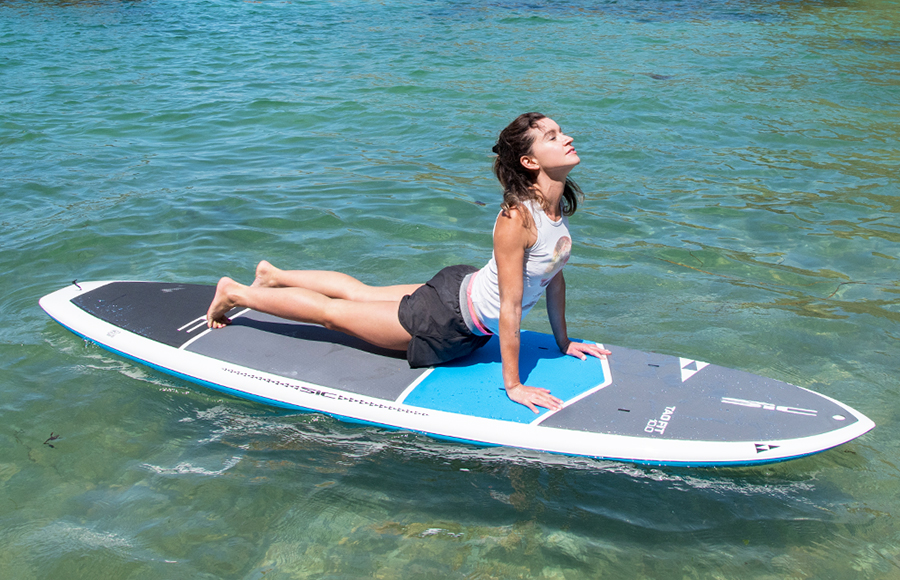 EXPLORING THE SERENITY AND STRENGTH OF SUP YOGA



---
In recent years, SUP Yoga has taken the fitness world by storm. Combining the peacefulness of yoga with the tranquility of water, SUP yoga offers an invigorating and refreshing way to connect with nature while enhancing your mind, body, and soul.
What is SUP Yoga? SUP yoga, short for Stand-Up Paddleboard yoga, is a practice that combines traditional yoga postures with stand-up paddleboarding. Instead of practicing on a stable mat, SUP yoga takes place on a floating paddleboard, usually in calm bodies of water like lakes, rivers, or the ocean. The paddleboard adds an element of challenge and instability, requiring practitioners to engage their core muscles for balance and focus.
---
CORE STRENGHT AND STABILITY
SUP yoga requires the constant engagement of the core muscles to maintain balance on the unstable paddleboard. This leads to improved core strength, stability, and better posture.
IMPROVE BALANCE AND COORDINATION
The ever-changing surface of the water challenges your balance and coordination skills. Over time, this practice enhances your proprioception, making you more agile and stable in various physical activities.
INCREASED FOCUS AND MINDFULNESS
Balancing on a paddleboard amidst the tranquility of water cultivates a deep sense of focus and mindfulness. By connecting with the present moment, SUP yoga enhances mental clarity and reduces stress.
---
SUP yoga engages multiple muscle groups simultaneously. While practicing yoga postures, you also paddle, which targets your arms, shoulders, and back muscles. It offers a complete body workout, building strength, endurance, and flexibility.
---
STRESS RELIEF AND RELAXATION
Being surrounded by nature and the gentle rhythm of the water creates a calming and serene environment. SUP yoga provides an excellent opportunity to let go of stress, unwind, and find inner peace.

---
If you're looking for the perfect boards for SUP Yoga, our TAO FIT and MANGROVE models are excellent choices. Their ample volume and generous width provide the stability and space you need for a comfortable and enjoyable practice on the water.
If you require the convenience of easy storage and transportation at a budget-friendly price, the TAO AIR TOUR boards and the TAO AIR SURF 10'6 inflatable paddleboards are the ones for you. They still offer the stability and performance you need for SUP Yoga, ensuring you can experience the joys of SUP yoga without any compromises.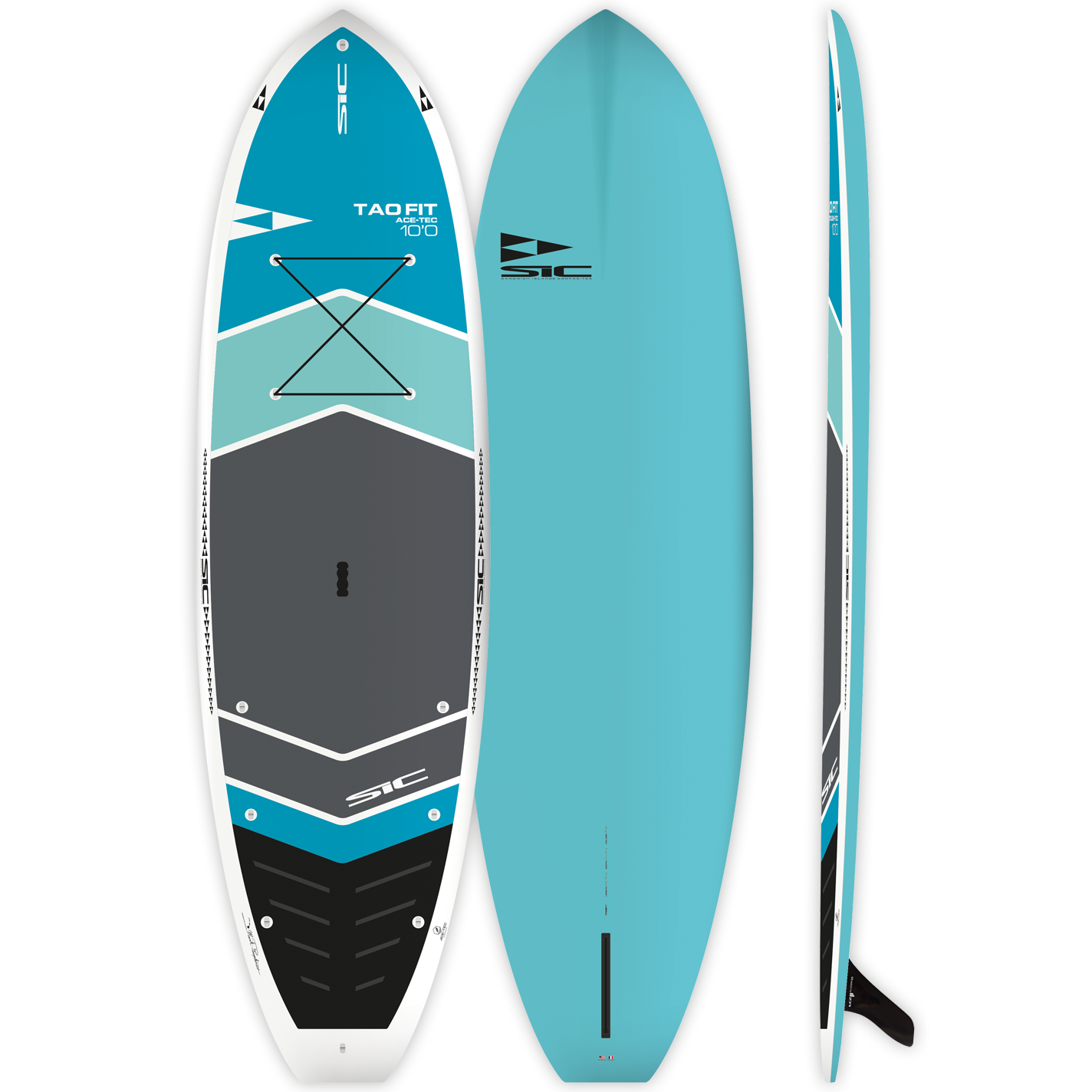 THE IDEAL SUP FOR YOGA

The TAO Fit is about stability, durability, and versatility. It's a keeled nose cut through the water and helps with tracking.
---
For SUP yoga, you will need a few essential items for safety and comfort such as a water bottle, a PFD, a leash, a paddle, and an anchor. As always, a PFD and Leash is required while paddling to your SUP yoga destination.
The leash can also function as a paddle holder while you're practicing, and an anchor will help keep you from drifting away. You should wear comfortable, non-restrictive clothing, such as a swimsuit, to enable you to move freely during the session.
WHAT TO KNOW BEFORE YOU FLOW
SUP yoga offers a captivating and rewarding experience that combines the benefits of yoga with the tranquility of water. It challenges your physical and mental limits, strengthens your core, enhances balance and coordination, and deepens your connection with nature. Whether you're a seasoned yogi, racer looking to cross train or a beginner, give SUP yoga a try, and embark on a journey of serenity, strength, and self-discovery on the water.
SUP Yoga tips from our SIC Ambassador Julie Miller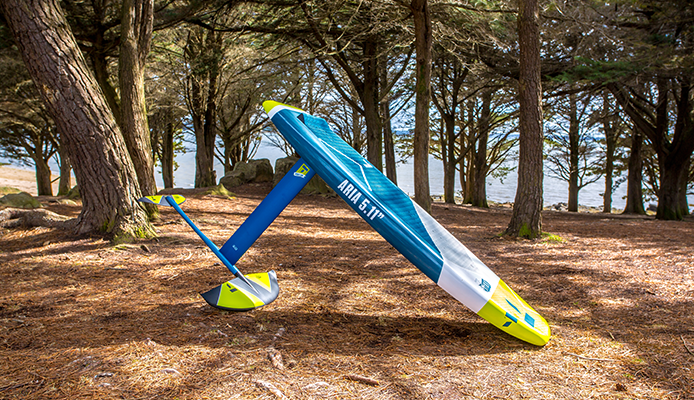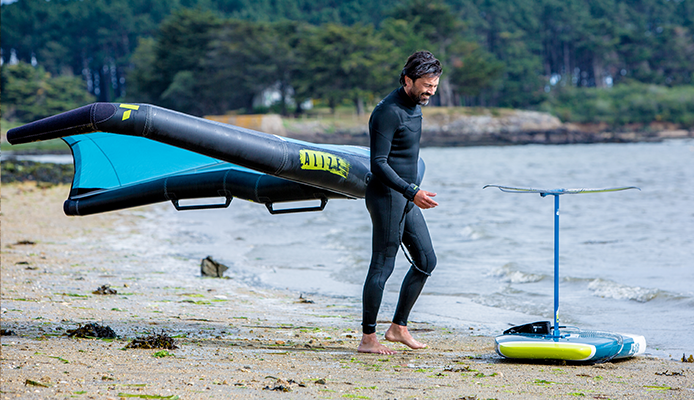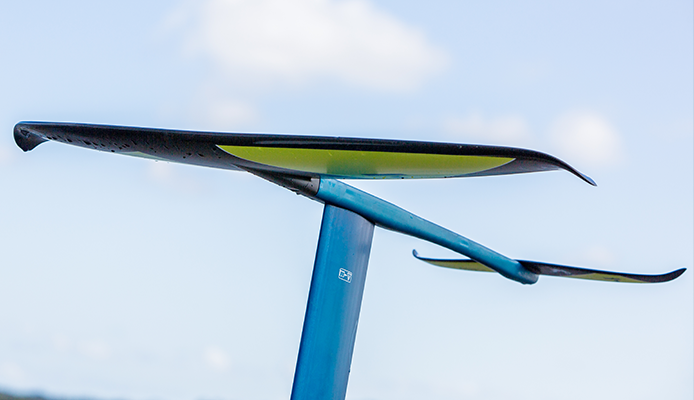 À la RECHERCHE D'UNE PLANCHE ?
Découvrez les planches Aria, conçues pour offrir
aux nouveaux riders de nouvelles sensations de plaisir
et une grande marge de progression.
... OU D'UNE AILE ?
Comme les vents chauds et réguliers qui soufflent à travers les tropiques, les ailes Alizé sont stables et légères. Décollage garantit !
...OU D'UN FOIL ?
Les foils Aquilon sont la combinaison idéale pour apprendre à "voler" !
Un foil, deux tailles, conçu pour vous aider à apprendre avec style et à progresser rapidement.