TAO SURF 11'6'' x 32.5''
All-Round Flatwater
All-Round Surf
Surf
Ideal for
Rental companies looking for a super durable board
Paddling schools and camps
Recreational touring
Beginner surfers
Intermediate - advanced surfers that want a durable paddleboard
Great board for kids learning to paddle
Families looking for an affordable board

Summary
The TAO Surf series is inspired by traditional surf design, letting you carve down the line with ease or paddle and cruise.
Description
TAO SURF 11'6'' x 32.5''

The TAO Surf series is inspired by traditional surf design. The full nose and rounded pintail help you drop into waves and then carve down the line with ease. The generous widths make the board stable, which comes in handy when punching through the shore break or standing out in the lineup. The Tao Surf is also a beautiful cruising board with a moderate rocker line that tracks and glides nicely through the water.
It can accommodate multiple fin configurations (single fin or thruster setup). The overall volume is designed to suit the whole family.
SIC Tough-Tec product is manufactured in France, which helps us maintain our constant drive for innovation and control our material. Tough-Tec Manufacturing is eco-friendly with low energy consumption, includes recycling all our manufacturing off-cuts, and has zero polluting/toxic emissions. Our EPS cores are also made on-site, ensuring zero waste. All of our Tough-Tec boards are also 100% recyclable. No auto-obsolesces in our products as we ensure tough, durable, long-life equipment
---
Key Features & Benefits
Surf-inspired longboard surf shapes Ideal for stable flat-water cruising and wave surfing
Moderate rocker profile and tapered rails Ideal for flat-water glide and wave surf performance
Molded EPS foam core Watertight, lightweight durable and recyclable
Ultra-durable external shell Nearly ding-proof polyethylene for worry-free use
Attachment points and bungee on deck To secure gear
Soft and grippy EVA foam deck pad Comfort and control
Ergo-grip carry handle Ease of transport and less fatigue
FCS II tool-free removable center fin Tracking and surf performance (side fins optional - sold separately)
Zero waste manufacturing process
---
Technical Specs
Max riders weight

240 lbs / 110 kg

One foot off nose

22.6'' / 57.5 cm

One foot off tail

19.5'' / 49.5 cm

Finbox configuration set up

Single US box + FCS I System (x2)

Supplied fin(s)

FCS II CONNECT Dolphin 10"

Product type

Rigid composite

Country of manufacture

France
Package Includes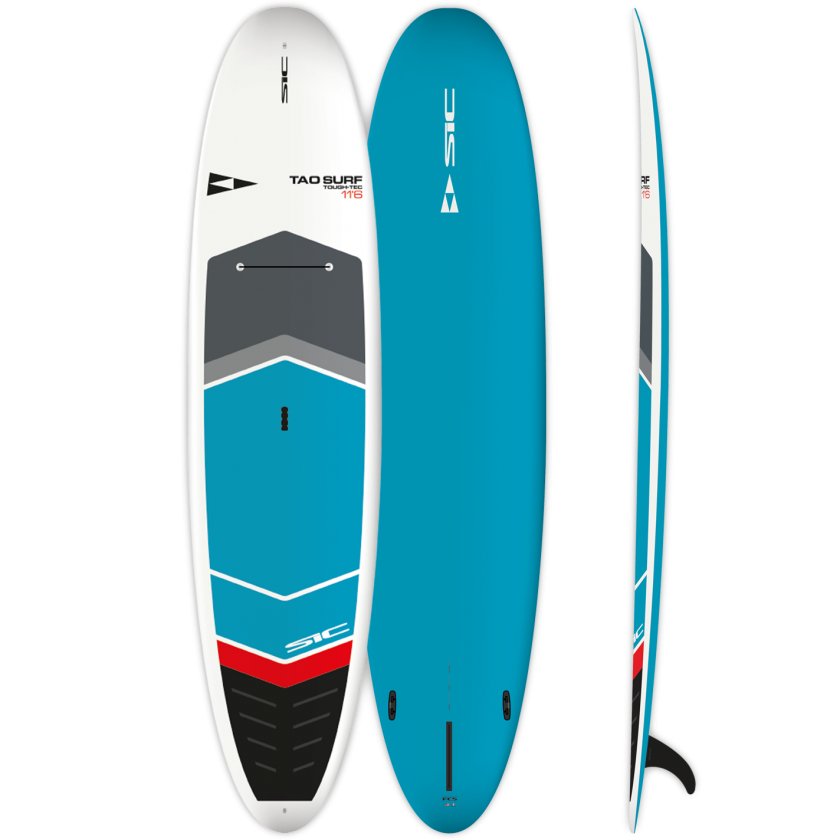 The Tao Surf 11'6'' (TT) comes with:
1x Tao surf art board
1x FCSII CONNECT Dolphin 10"