SABER 10'6'' x 30.0''
Ideal for
Recreational surf
Performance surf
Surf Cruising
Recreational Paddling
Fitness Paddling

Summary
The Saber is a great recreational cruiser that can surf without performance being compromised. The Saber is a great place to start if you think cruising and surfing are in your future.
Description
SABER 10'6'' x 30.0''
We classify the Saber a surf-cruiser because when the surf comes up, the Saber will not let you down. These boards ride like a longboard, carry speed down the line and cruise effortlessly through the break and on the flats. The pinched rails and tail hip in the tail allow the board to carve smooth through turns keeping you smiling from ear-to-ear.
This board is also designed as a stable recreational cruiser. Its flat bottom will give you the confidence you need in choppy waters and is perfect for cruising harbors, lakes or nearly anywhere you want to go. The Saber is built in SIC's Glass Composite + Innegra™ (GC+) construction which offers both performance and durability at an affordable price.
---
Key Features & Benefits
Full nose To get into mushy waves or for longboard riding style and feel
Beveled rails For more bite on the wave and quicker turning
Foam flow distribution Giving volume where you need, tapering to the tail for better maneuverability
2+1 configuration Including FCS2 fin boxes + 10" US Center Box. Allows for fin setup flexibility
Diamond groove textured EVA pad For traction and grip
4-piece kick pad Assist with turning
Leash plug To connect a leash for safety
Gore-TexTM breather vent Allows board to breathe and prevent delamination
Action camera mount on the nose To capture your adventures on the water
---
Technical Specs
Thickness

4.1'' / 10.4 cm

Weight

24.7 lbs / 11.2 kg

Max riders weight

210 lbs / 95 kg

One foot off nose

20.6'' / 52.4 cm

One foot off tail

17.4'' / 44.2 cm

Finbox configuration set up

Single US box + 2 FCS FUSION

Supplied fin(s)

9.0" Mahi + Three/Four XL

Product type

Rigid composite

Country of manufacture

Vietnam
Package Includes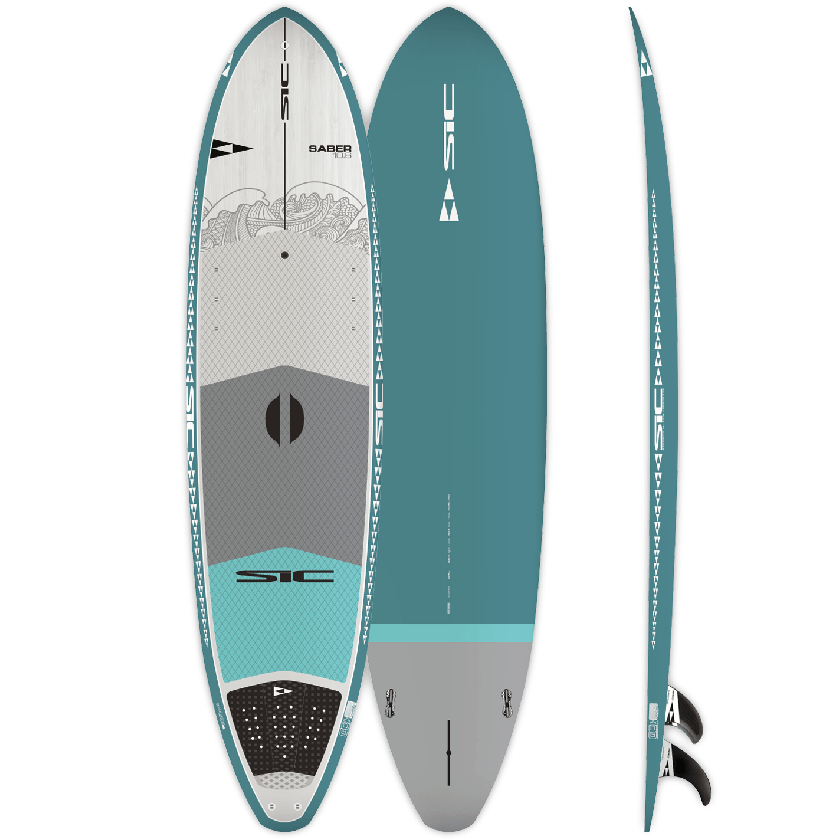 The Saber comes with:
1x Saber Board
Three/Four XL Fusion compatible fins + 9.0" MAHI 3K Carbon Fin