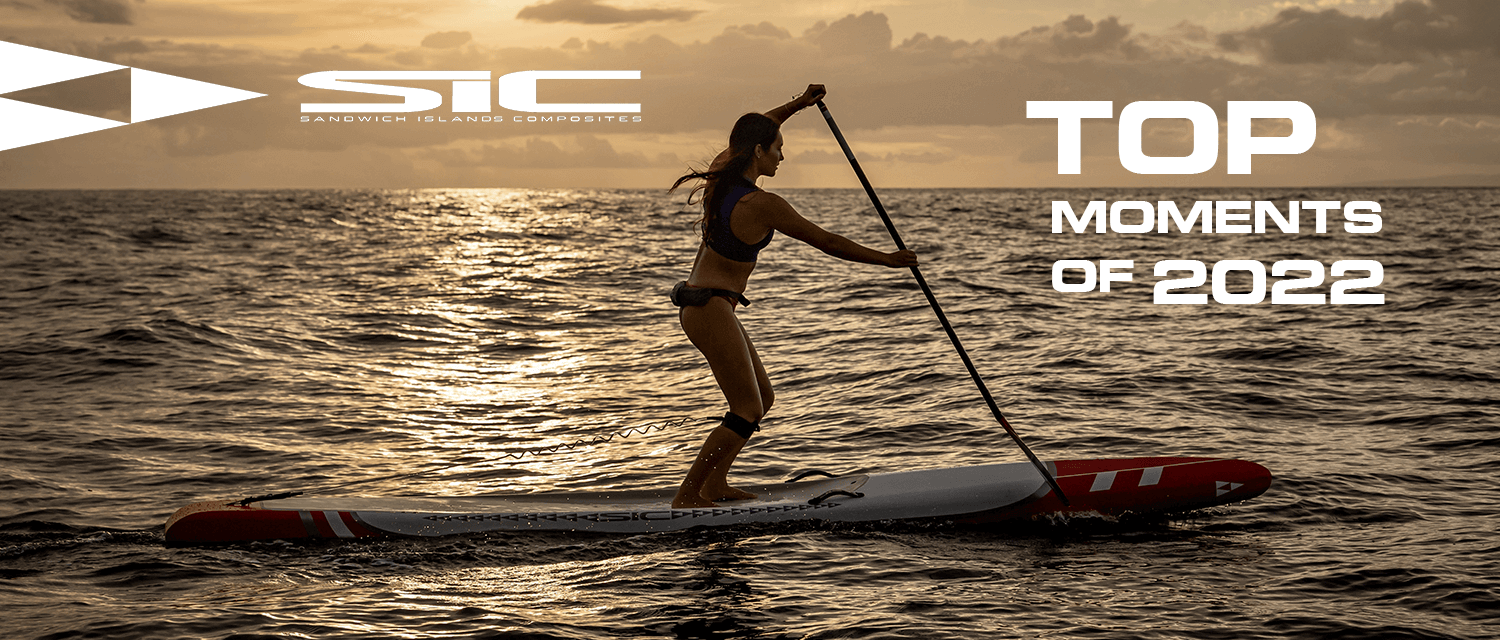 2022 Was A Year of Racing and Renewal for SIC Maui
In 2022, SIC Maui saw the return of racing and the awaited release of some exciting new products! After a two-year break from events, competition was back on the water and the SIC Maui team was ready to send it. The season saw many standout performances from our team racers across the globe. This year was exciting on the production side as well—our XRS range become globally available, and we launched the Slash Foil with the innovative flip fuselage. As credit to our hard work this year, four SIC Maui products were recognized with SUPconnect awards. We've put together a review of 2022, in case you missed any of the action.
---
Event Highlights
After a two-year hiatus from competition, events are back, and this year has been more exciting than ever. SIC hosted the Gorge Paddle Challenge with strong performance by our team riders. SIC riders also put on noteworthy showings at ICF World Championships, the APP Busan SUP Open, and ISA Worlds.
Gorge Paddle Challenge
Team SIC kicked off its racing season at the Gorge Paddle Challenge, hosted by SIC Maui in Hood River, Oregon this past August. 230 paddlers showed up to the event and were treated to incredible conditions. SIC Maui riders made a strong showing on both the men's and women's side taking podium spots in downwind and the course race days.
For the elite men's downwind race, SIC Global Athlete Bodie Von Allmen finished in third place with SIC Global Athlete David Leao close behind in fourth. SIC Youth Athlete Trace Ostrowski took first for the junior boys downwind. In the elite men's course race, David Leao finished in second place with Bodie Von Allmen and Campbell Carter finishing in third and fourth, respectively.
On the women's side, SIC Global Athlete Jade Howson dominated with the win in both elite women's downwind and course races. SIC Youth Athlete Alex Ostrowski finished fifth in the downwind. Soryn Preston, the newest member of the SIC Youth Development team, won both the grom and junior girls downwind.
ICF World Championships
In September, 500 athletes from 42 countries gathered to face off at the ICF Standup Paddle World Championships. Athletes were invited to participate as individuals or teams in the five-day event and 30,000 Euros in prize money were on the line.
Event highlights include SIC Global Athlete Rai Taguchi fighting his way to the sprint finals where he rounded out the event in fourth. Rai would later go on to capture tenth with SIC teammate Ludovic Teulade finishing in eleventh in the distance event on a day with challenging conditions. Our SIC Team Manager Tommy Buday finished in third for the Master men 40+. The final day saw a strong third-place finish for Rai Taguchi in the men's technical final.
ISA WORLD SUP & PADDLEBOARD CHAMPIONSHIPS
The world's top SUP athletes gathered in San Juan, Puerto Rico this year for the ISA World Stand Up Paddleboard Championship. Athletes get the opportunity to not only compete as individual riders but as part of their national team. Amongst the global field of competitors, SIC had a strong showing with riders from the USA, Canada, Puerto Rico, Brazil, and Egypt.
Race highlights include an excellent display of grit in sweltering conditions during the distance race by SIC Global Athlete Bodie Von Allmen, who took thirteenth place. The sprint races saw great performances by SIC Global Athlete David Leao and Mariecarmen Rivera who both took third respectively. SIC Maui Juniors and Team USA saw success during the junior technical races with seventeen-year-old Campbell Carter taking bronze in the junior boys and thirteen-year-old Soryn Preston capturing bronze in the junior girls. Another big highlight was seeing Nour Refaat, the first female Egyptian SUP athlete to race at the ISA riding an SIC board , with her mission of helping raise awareness for gender-based violence and empowering women through SUP racing.
---
Product Highlights
At SIC, we're constantly striving to improve our existing products and release new, state-of-the-art gear worldwide. This year, we were excited to see the master of flatwater racing, the XRS, hit the global market. The addition of the Slash Foil with its flip fuselage was another exciting addition to our full lineup.
The XRS Range
Our XRS range was designed to be a one-track-minded board focused on top-performance flatwater racing. As the master of flatwater, the XRS offers the best possible length-to-width aspect ratio, delivering a stable platform for a racer to power up for speed. The flat bottom with the proportionally wide tail offers this foundation, and with an effective waterline, the XRS allows paddlers to achieve unrivaled acceleration. The XRS includes three different size options: 14' x 20", 14' x 22", and 14' x 24". All three models are now available worldwide.
Slash Foil - Flip Fuselage
Our Slash Foil system offers a NEW & innovative flip fuselage, which allows you to trim your foil performance simply by flipping the orientation of the fuselage. Made from anodized aluminum, the fuselage focuses on the key discovery and progression phases and provides incredible take-off and in-flight stability.
---
SIC Shines At 2022 SUPconnect Awards
Since 2010, the SUPconnect Awards have recognized and honored individuals that have made exceptional contributions to the sport. This year, SIC Maui received multiple awards across four categories! SIC took runner-up in the Brand of the Year category. The Okeanos board won two Gear of the Year awards, including "Best Touring Board" and "Best Overall Board." Additionally, 13-year-old Soryn Preston took third in the Grom of the Year awards and Brendon Price won man of the year for his 2021 expedition around mainland UK.
Cheers to an amazing year!
We can't wait to see what 2023 has in store for the SIC Maui ohana!