SONIC 12'6'' x 30.0''
All-Round Flatwater
Race
Touring
Ideal for
Recreational touring
Recreational racing
Official One Class Raceboard
Day trip and multi-day trip paddling
Recreational downwinding
Summary
Whether cruising flat-water, touring lakes, adventuring in open ocean, or racing, the Sonic will give you the stability and confidence to advance.
Description
SONIC 12'6'' x 30.0''

The Sonic provides a smooth and effortless paddling experience. Whether paddling flat-water, cruising lakes, rivers, or the open ocean, the Sonic will give you the stability and confidence to learn, advance, and race with confidence when you are ready. These boards are incredibly durable and are offered at an affordable price. There is a reason why more than eight thousand paddlers around the world are paddling this classic shape.
The Sonic 12.6 is also an official One Class race board. One Class is a race series popping up around the world, making racing accessible, affordable, and fun for everyone. It's a great event for new paddlers to give racing a try. Racers use boards that are identical in shape, size, and weight, leveling the playing field. Racecourses are two to three miles long, so paddlers of all ages and abilities can participate.
---
Key Features & Benefits
Hull with round section on the front and flat on the rear Speed and stability
Keeled nose Cuts smoothly through chop
Deck with a flat section under standing area Improve stability
Four attachment points in front of standing Area Secures gear
Ergo-Grip carry handle Ease of transport
ACE-TEC construction Featuring fiberglass and a protective outer polymer skin. Durable and light weight
---
Technical Specs
Weight

34.0 lbs / 15.5 kg

Max riders weight

265 lbs / 120 kg

Finbox configuration set up

Single US box

Supplied fin(s)

FCS II CONNECT Touring 9"

Product type

Rigid composite

Country of manufacture

France
Package Includes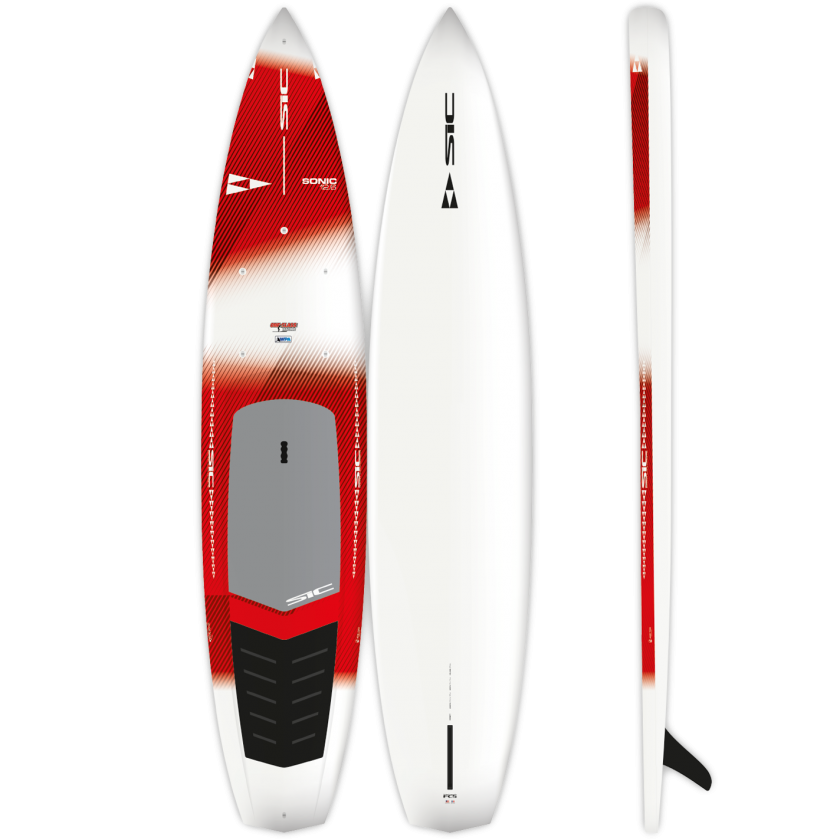 The Sonic 12'6" (AT) comes with:
1x Sonic board
1x FCSII CONNECT Touring 9"