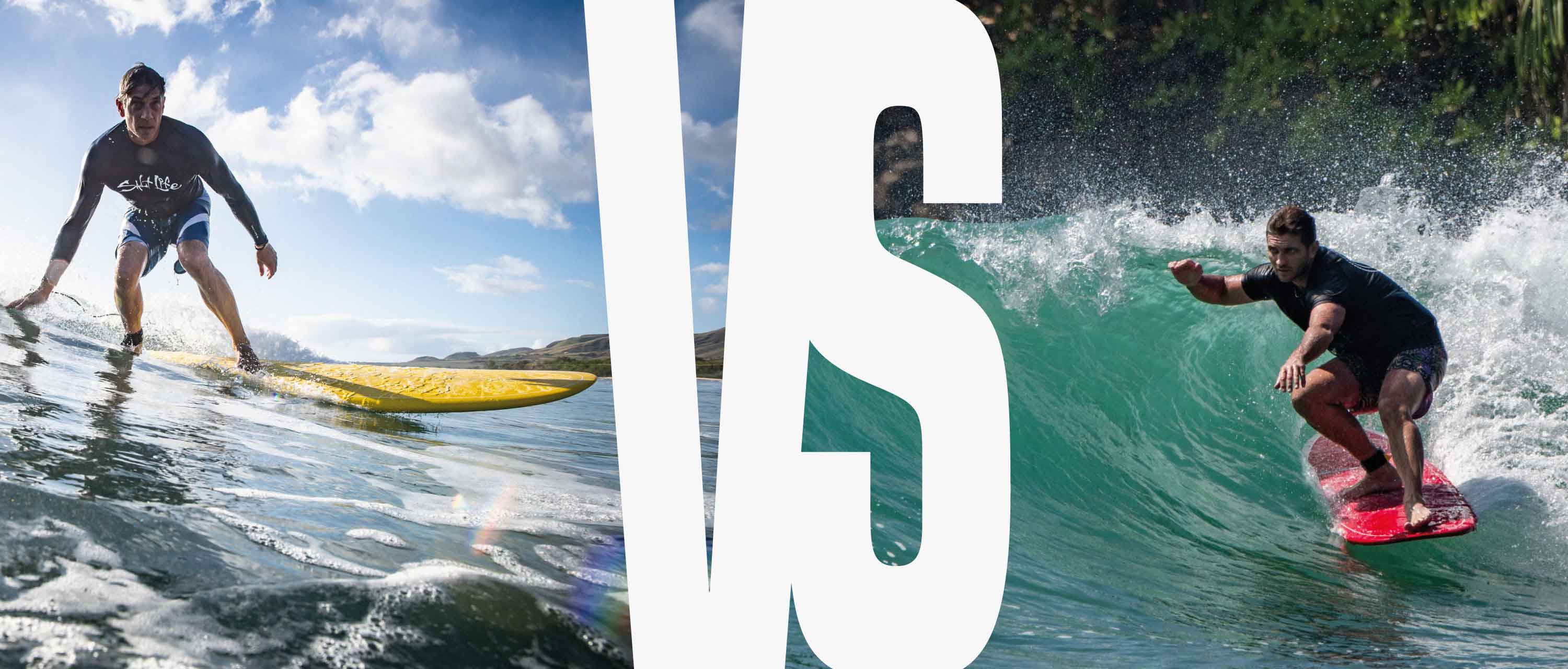 Differences & Similarities
All you need to know about those 2 top-performing long boards
Watermen and women aren't one dimensional, and neither is SIC Maui. Our brand motto Bound by Water applies regardless of the type of craft we choose to use. In 2020 we added a comprehensive range of surfboards to our award-winning SUP line. In keeping with our legacy of premium boards for all skill levels we partnered with Jon Henderson, a renowned Californian shaping veteran, to design the full range of SIC surf craft.
Based in the surf mecca of Santa Cruz, California, Jon Henderson has been shaping for decades. His boards are under the feet of top surf pros and everyday fun seekers around the globe. It was a no-brainer to bring him on board to develop the SIC Maui surf collection and we are super stoked on the result. We're confident you'll find a board to match your style and skill level.
In this blog we'll take a closer look at the Swindler and Smuggler, two unique longboards for old-school nose riding or a smooth, high-performance wave attack.
---
Performance profile
Swindler: Performance with soul
If you are looking to transition from longboarding to shortboard and want a surprisingly good tube-riding board, the Swindler is for you. Its tapered foil of the nose and tail, combined with its low, thin rails, provides progressive performance and maximum maneuverability.
The shorter 8.6 Swindler is also classified as a Funboard, a hybrid, medium-size surfboard design that adapts to a wide range of waves, while the 9.0 Swindler is considered a shorter – new school-shaped longboard.
Wave type
Mostly high and hollowed waves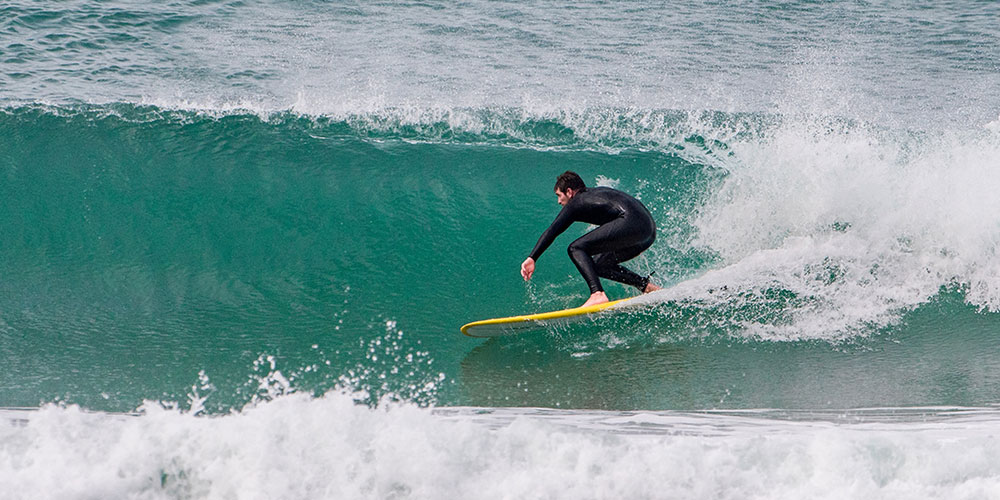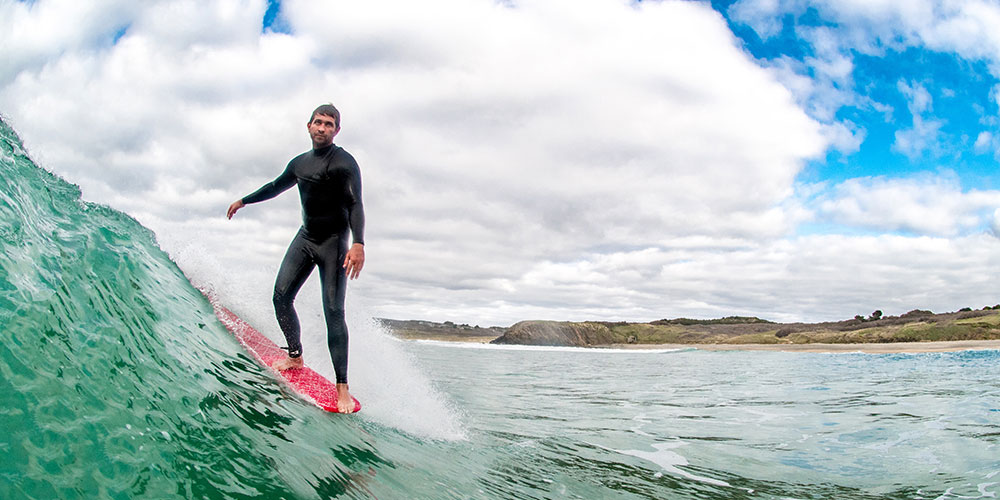 Smuggler: The authentic traditional longboard
If you are a traditional "old school" surfer looking for classic longboard glide and want to catch more waves and have more fun in weaker waves, then the Smuggler board is for you.
Longboards are easier to generate speed to get into the wave and designed so you can walk the board to perform maneuvers like a cheater-five or classic hang-ten. The turning radius for a longboard is longer than a funboard (malibu) or a shortboard. These boards work well for beginners but can also be high-performance for more accomplished longboard surfers.
Wave type
Mostly small, soft waves
---
Nose
Swindler: Tapered foil on the nose
A thinned out nose profile and added rocker prevent nose dives and catching during cutbacks and wraps.
Smuggler: Subtle nose concave
Nose concave gives the board lift for easy nose riding and extra glide. A thicker, higher volume nose also helps with hang fives and tens.


---
Rail
Swindler: Low–thin rails
Thinned out, sharp rails in the tail for high-performance longboarding. Performs off the tail more like a shortboard for sharper turns and cutbacks.


Smuggler: Rounded rails
Old school shape: Smuggler's 50/50 rail profile gives the board a soft, flowy feel from rail to rail.
---
Tail
Swindler: Smooth rounded-pintail
The round pin tail shape lets you wrap turns like a shortboard and hold rail even in steeper, more critical waves. Added tail rocker opens up more radical moves and makes the board easier to pivot and go more top to bottom vs. down the line.
Smuggler: Square tail
Wide, stable tail with moderate rocker adds speed and ease of take-offs. It's the perfect kind of board for gliding through flat sections and maintaining down the line speed.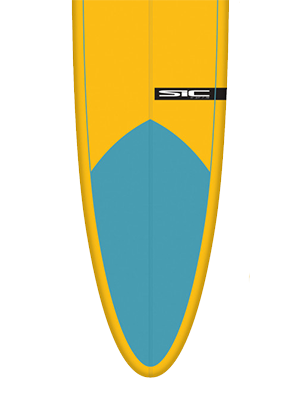 ---
Fin configuration
Swindler: Centre finbox +1 Twin FCS2 side fin
Can be ridden as a 2+1 fin set-up for added hold in bigger more powerful surf or as a single fin for an old school feel.
Smuggler: Single fin box
For a traditional longboard setup and loose old school glide. Higher surface area fins will work best for noseriding and control while a thinner fin will add pivot and loosen the board up.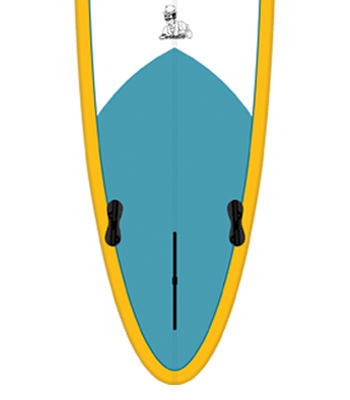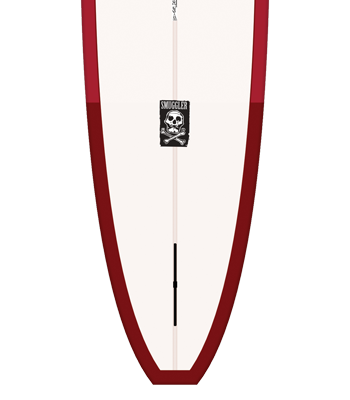 ---
Construction
Star Light (SL) construction
Star Light offers the optimum strength/weight ratio on the market for light, durable performance surfboards. It features a full epoxy and fiberglass skin laminated over a full PVC Sandwich. These materials are wrapped around a lightweight EPS core, making them incredibly light, lively, and durable. The full PVC sandwich wraps around the EPS core (top, bottom, 360-degree around the rails) for unprecedented durability and world-class performance. These boards are moulded to ensure that every board is a replica of the master shaped by Jon Henderson.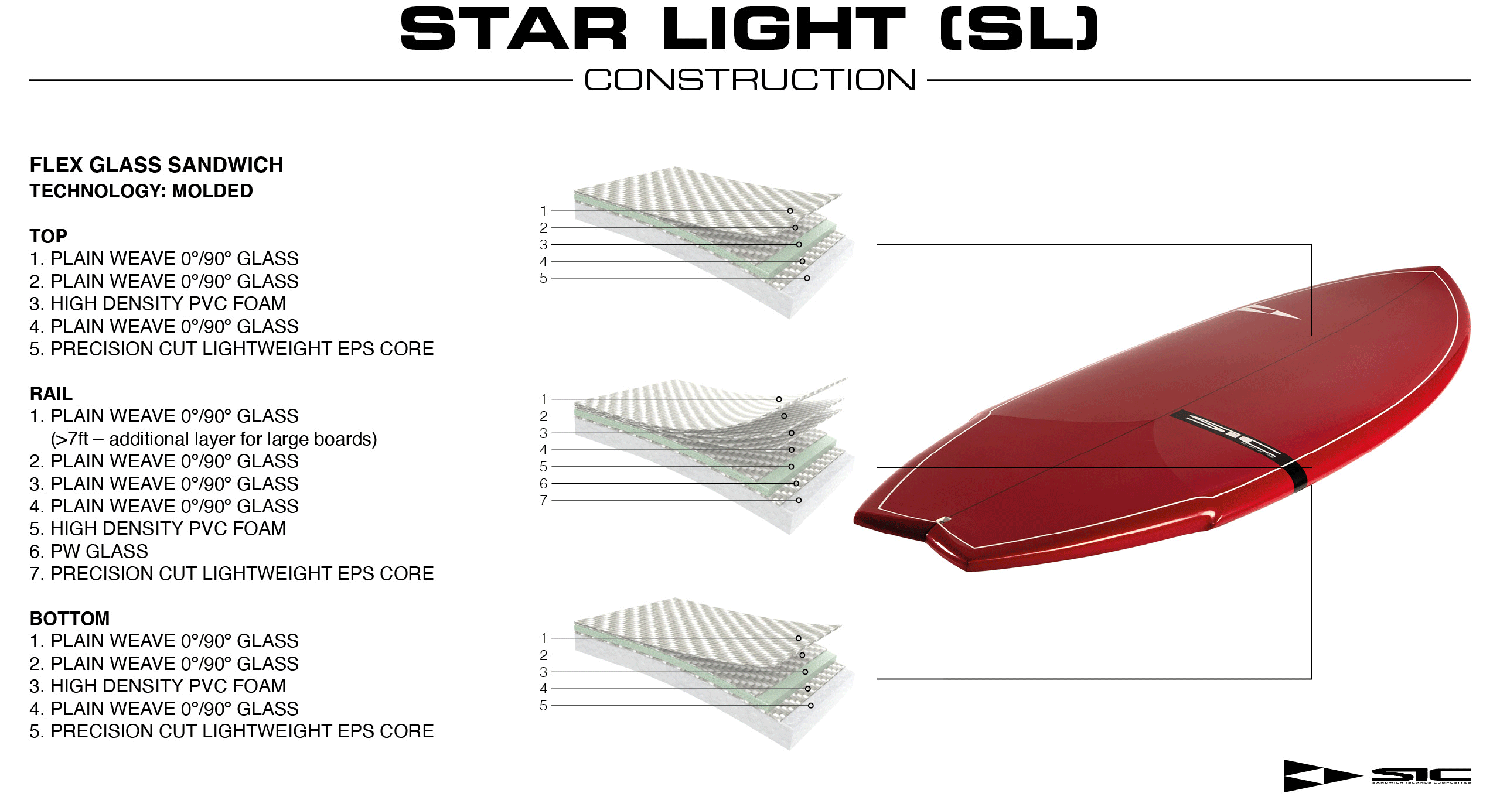 ---
Who are these boards for?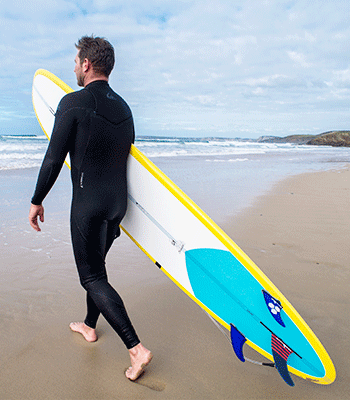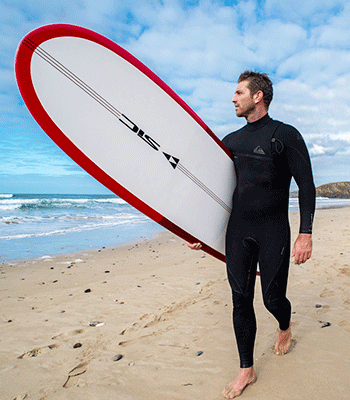 Swindler

With their "shorter" sizes (9'0" and 8'6") the Swindler are ideal for surfers looking to transition from longboarding to short boarding. They are also great if you look for a good tube riding experience.
Smuggler

Smuggler (9'4" and 9'8") are really for the traditional "old school" surfers looking for classic longboard glide. If you want to catch more waves and have more fun in weaker waves, this is the board for you.